With so many audio formats available, which is the one that you should use? The answer is not so straightforward.
In this article, we will look at the most common audio file formats in use today and find out is there indeed a best audio format.
We will explore:
What is exactly an audio file format?
What is considered HD audio and what does audio file format has to do with it?
Understand the difference between Uncompressed, lossy, and lossless files
Comparison between popular types of audio files
What songs format should one be using?
What are the best audio format?
If you have been consuming digital audio for several years, your computer will be full of digital music files in different formats. Most of the time, it's not something you need to think about, as long as your media player can read them. But as you dive deeper into this audiophile hobby, you might start to wonder, "What's the best audio format for my music?".
Well, this is the article for you.
Let's get into it.
Quick Links
Use these quick links to quickly navigate around the article.
What Is an Audio File Format?
The audio file format is a file format for storing digital audio on a computer system like PC, mobile phone, etc. Audio information are stored as bits in the file and can be called as bit layout.
These bit layout can be uncompressed, or compressed using lossless or lossy encoding.
Audio File Formats and Sound Quality
Not all audio file formats are equal. Sample rate and bit depth determine the resolution, the frequency range and the dynamic range of the audio. The standard for CD quality audio is a sample rate of 44.1kHz, and a bit depth of 16-bit.
Anything below this and your audio is not considered High-Definition (HD) or High-Resolution. Many audio file formats use settings lower than what qualifies as HD. The reasons are explained in the following sections.
All the music you listen to, should at the very least, have a sampling rate of 44.1kHz (44100Hz). This rate captures frequencies up to 22050Hz, just above the limit of human hearing (~20kHz).
Downloadable HD Files
If you are an audiophile, there is the option to purchase audio with a sampling rate of up to 192kHz, and a bit depth of 24-bit. Although they are not widespread, 24-bits files are available from certain music outlets like:
There is not yet a big demand for files with sample rates higher than 48kHz. Although they offer higher quality, they also require a lot more storage space. Many content creators are not releasing audio with sample rates higher than 44.1kHz.
HD Streaming
If you are not interested in downloading the files and constraining your computer resources, you can consider streaming HD audio.
There are some streaming services that offer HD streaming, Amazon HD, Tidal, and Qobuz to name a few. The music library they offer in this format is often smaller than what the non-HD library offers.
3 Main Groups of Audio File Format
Audio File Formats can be divided into 3 main groups:
Here is a table that depicts each audio file format and its encoding type:

| Format | Encoding |
| --- | --- |
| WAV | Uncompressed |
| AIFF | Uncompressed |
| ALAC | Lossless |
| FLAC | Lossless |
| MP3 | Lossy |
| AAC | Lossy |
| WMA | Lossy |
| OGG | Lossy |
Uncompressed Audio Format
If your audio files are uncompressed, they are 100% bit-for-bit identical as the producer created them in, digital copies.
Uncompressed formats are created using pulse code modulation, PCM. This is the same format used for CDs and DVDs.
So if your master studio has the following bits:
1100110011000000
The PCM track will contain the exact same bits:
1100110011000000
Large File Size
Since the PCM is uncompressed, uncompressed files take up a huge amount of disc space. The only suitable portable medium to hold such files are on discs such as CD, DVDs or even Blu-ray disc. (RIP HD DVD)
Lossless Compressed Audio Format
With lossless encoding or lossless compression, you get the best of both worlds. Lossless files are compressed, reducing the file size, and making them easier to store and distribute.
On playback, they can be decoded to the original uncompressed state, with no degradation of the signal.
Think of it as a ZIP file. When you zip your documents, it becomes compressed and the file size is reduced. When you "unzip" or decode them, your original documents is recreated with nothing changed.
How do lossless compression work?
Lossless compression seems like magic. How do you throw away data but yet recreate them back in a an exact way? Lossy compression throws away data too and they are unable to recreate the original copy.
Turns out lossless compression throws away data in a smart manner which allows the original copy to be recreated. This is done by identifying patterns and representing the data in a shorter manner.
There are complex statistical analyses been done to identify patterns for compression but we have a simple example below to demonstrate how to throw away data smartly.
Bits for Master Studio Track:
1100011110000000
A lossless encoder can drop all the 0 and replace it with a symbol that takes up smaller space, thus, reducing file size:
11___1111_______
When the decoder receives the above bits, it will replace the symbol with the 0 again to recreate the original bits.
For more info on the differences between lossless and uncompressed audio, you can read this.
Apart from being used to listen to music, lossless formats are useful for archiving audio files. No data is lost in the compression process. Although you don't get as much size reduction as lossy compression, lossless compression can still achieve an impressive file size reduction of up to 60%.
Lossy Compressed Audio Format
Lossy encoding or lossy compression uses psychoacoustic analysis. Algorithms detect content deemed inaudible, because of masking (sounds not heard because of other sounds). It then discards this information.
The advantage is that the file size can be drastically reduced, potentially up to 1/10th of the original size. However, it is not possible to retrieve the data lost and restore the file to its uncompressed original format later.
The downside of this is that it does affect the quality of the music. An indicator of streaming audio quality is the bitrate, measured in kilobits per second, kbps.
Bitrate formula = Sample Rate x Bit-depth x No. of Channels
| Format | Max bitrate |
| --- | --- |
| MP3 | 320kbps |
| AAC | 320kbps |
| OGG | 500kbps |
| WMA | 576kbps |
At bitrates of 320kbps or above, depending on the quality of your playback equipment, it's difficult to tell the difference between a lossy encoded file, and an uncompressed file.
The lower the bitrate, the more data is being thrown away, the crappier the audio quality.
Many digital music outlets, and many streaming services such as Spotify, offer/use bitrates with a maximum of 320kbps. It reduces the quality of the music content, directly affecting the listening experience.
For some this loss of quality is not an issue and at times, not noticeable at all. For casual listening, it can be acceptable.
If you are passionate about music and/or have invested in quality playback equipment, having the source material in the best quality possible is paramount.
With those distinctions made, let's look at the different audio file formats.
WAV
Types Of Compression: Uncompressed
WAV stands for Waveform Audio. Files in this format are also referred to as wave files, their extension is ".wav". Developed by IBM and Microsoft, it was one of the first audio file types developed for the PC.
Although it can be a container for compressed or uncompressed files, it is commonly used as a container for uncompressed PCM files so that it is playable on Windows.
It supports sample rates up to 192kHz, bit depth up to 32-bit. It is a HD format, no additional processing or encoding is applied.
As it has been around since 1991, it is compatible with all players, hardware and software that can deal with digital files.
The only downside with all uncompressed formats is that the file sizes can be large.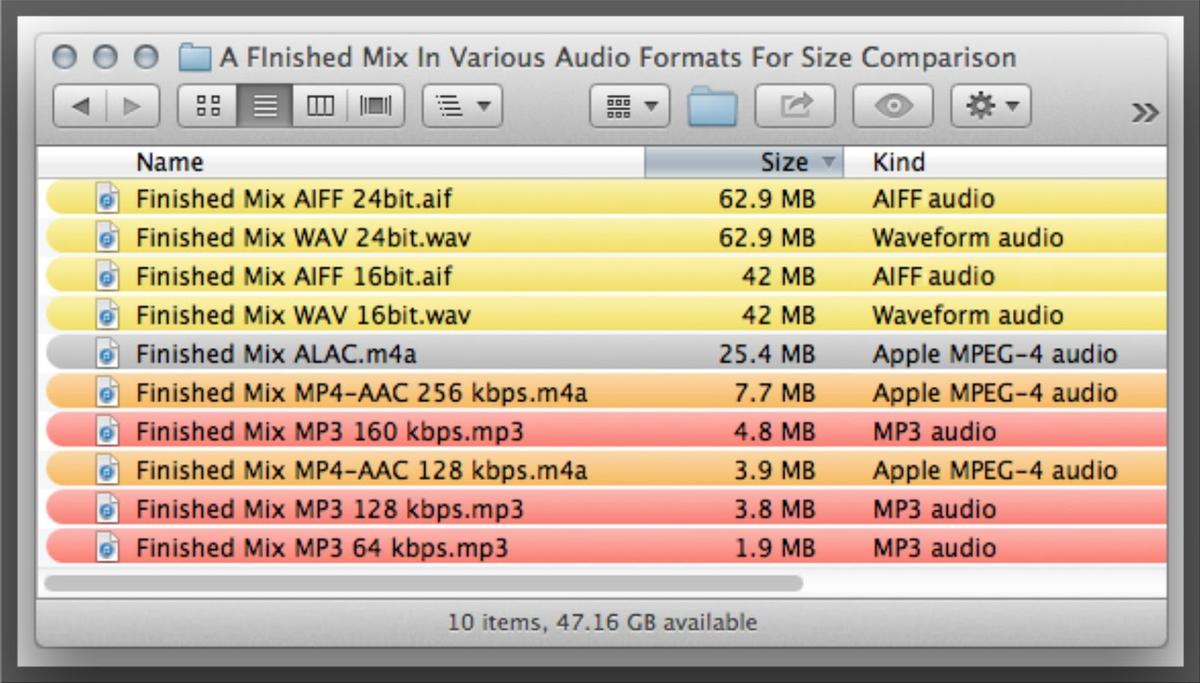 As a result, they take up more storage space on your computer's hard disk. They also take longer to upload/download on the internet, and use a lot of bandwidth.
What We Like
Accurate copy of the original recording
Offers the highest signal quality
What We Don't Like
Large file size
Requires high bandwidth for internet/Bluetooth transfer
AIFF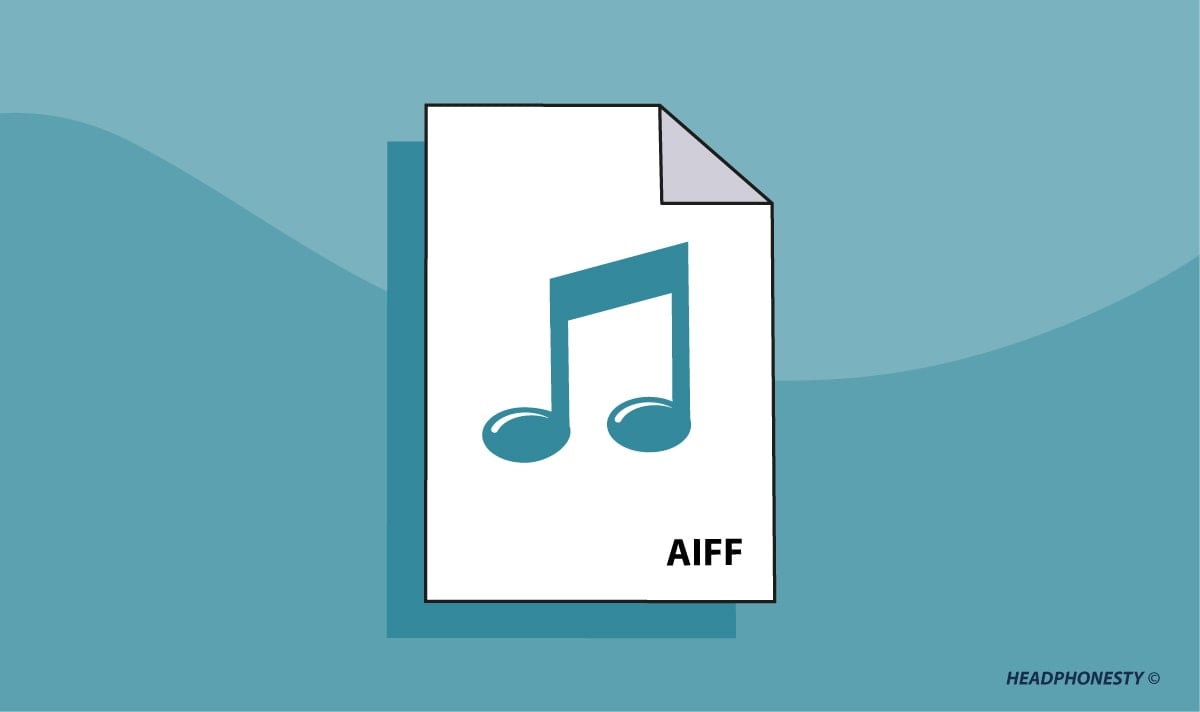 Types Of Compression: Uncompressed
Extension: .aif
AIFF stands for Audio Interchange File Format. Around 1988, Apple developed this format, for Apple products, around the same time as the first iMac.
It is very similar to a WAV file. It's uncompressed, supports similar sample rates, bit depths, and number of channels. It is also a HD format. It's file size is also comparable.
In terms of audio quality, there are no differences between WAV and AIFF files. AIFF files have the extension ".aif".
Originally it was only for Macintosh computers, the Windows operating system now supports it.
Other than having a different extension, the WAV and AIFF formats are identical. The only difference is that AIFF files have better support for metadata tags.
When entering additional data such as album title and genre in a media player software, the data gets added to the file. This does not happen with WAV files.
What We Like
Accurate copy of the original recording
Offers the highest signal quality
Support for metadata tags to store additional data like album title
What We Don't Like
Large file size
Requires high bandwidth for internet/Bluetooth transfer
ALAC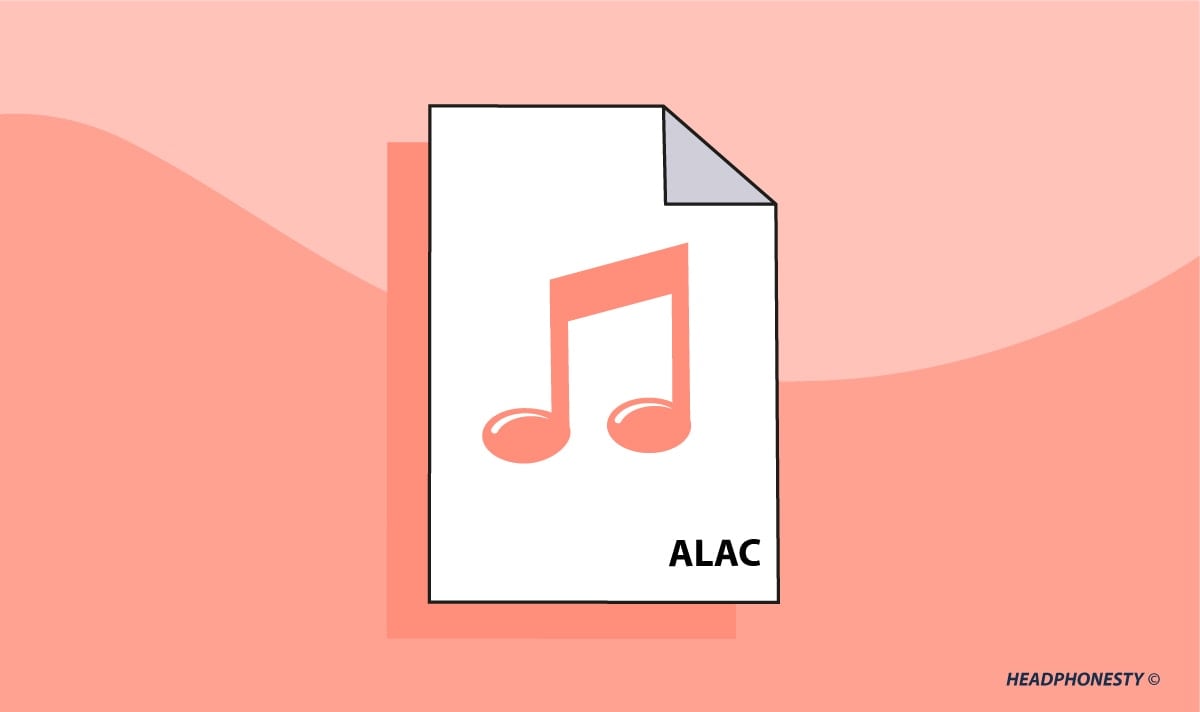 Types Of Compression: Lossless
Extension: .m4a, .caf
ALAC stands for Apple Lossless Audio Codec. As the name suggests it was developed by Apple and uses lossless compression.
Unlike most of the other formats listed here, it's file extension is not its name. ALAC files have the extension ".m4a". It is a part of both Quicktime and iTunes.
ALAC files, when compressed, are around 60% the size of the original file. When played back, they are uncompressed and sound identical to their original source.
It is supported by many software media players on both Mac and PC. Hardware support is limited to iOS devices, some iRiver, and some FiiO devices.
ALAC files can be uploaded to music services such as Tidal, and Google Play Music. However, take note that they are been converted to MP3 for streaming. In Google Play Music case, it will convert it to 320 kbps .mp3 file during streaming.
Although lossless files use more internet bandwidth to stream, the advantage over lossy formats is the preservation of the audio quality.
If you play most of your music from a computer, there will be no issues with this format. Mobile playback options need more consideration.
Although you don't save as much storage space as with lossy formats, you retain audio fidelity.
What We Like
Smaller file sizes than uncompressed files (> than lossy files though)
Sound comparable to uncompressed files
What We Don't Like
Limited Mobile player support
FLAC
Types Of Compression: Lossless
FLAC stands for Free Lossless Audio Codec. Like the OGG format, it is open-source. Most of what is true for ALAC files, is also true for FLAC files. File extension is ".flac".
When compared with ALAC, FLAC files have the ability to be streamed and decoded faster. This is not always a consideration, other than when gaming or watching film/dialogue sync.
In these situations, you want as little latency as possible. Latency is a time delay introduced because of the processing of the audio.
There are 9 different levels of FLAC compression levels that start from 0 to 8. The higher the level, the higher the compression ratio but it comes with slower encoding speed. Decoding speed on the other hand is more or less the same for all the levels.
If you wish to listen to FLAC formats on iOS devices, you'll have to use a third-party app. The only downside of FLAC, if you are using an Apple product, FLAC is not supported. As ALAC and FLAC are very similar, that's often a deciding factor, are you a MAC or PC person.
FLAC is the format used by Amazon for their HD streaming service. We can't say that FLAC is the best lossless audio format but it is for sure the popular choice among audiophiles.
What We Like
Smaller file sizes than uncompressed files (> than lossy files though)
Sound comparable to uncompressed files
Open-source
What We Don't Like
No Apple Music/iTunes support
MP3
Types Of Compression: Lossy
MPEG-1 Audio Layer 3, or MP3 is one of the most popular lossy/compressed file formats. Introduced in 1993 it quickly became incredibly popular.
Its compact file size allowed for fast distribution on the internet, whose bandwidth was a lot lower at the time.
MP3's small file size comes at the expense of audio quality.
All MP3s originally started out in an uncompressed format, such as WAV or AIFF. They are processed and created using an encoder. The bitrate set in the encoder determines the resolution and quality of the music you hear.
320kbps is the highest resolution that an MP3 file can be. Unless you are using high-quality playback equipment, it's difficult to tell the difference between a file encoded with this setting and CD-quality audio.
Often, streaming services only offer music delivery in 320kbps with paid subscriptions. Free services can go as low as 128kbps. At this bitrate, diminished quality is obvious.
The main advantage of MP3 is the compact file size, compatibility with digital media players, and good sound quality, as long as you encode at 320kbps.
What We Like
Compact file sizes
Universal compatibility with hardware/software
Low bandwidth required for internet/Bluetooth transfer
Good enough to be used for paid streaming music platforms
What We Don't Like
The inferiority of MP3's audio quality can be evident in high-quality playback equipments
AAC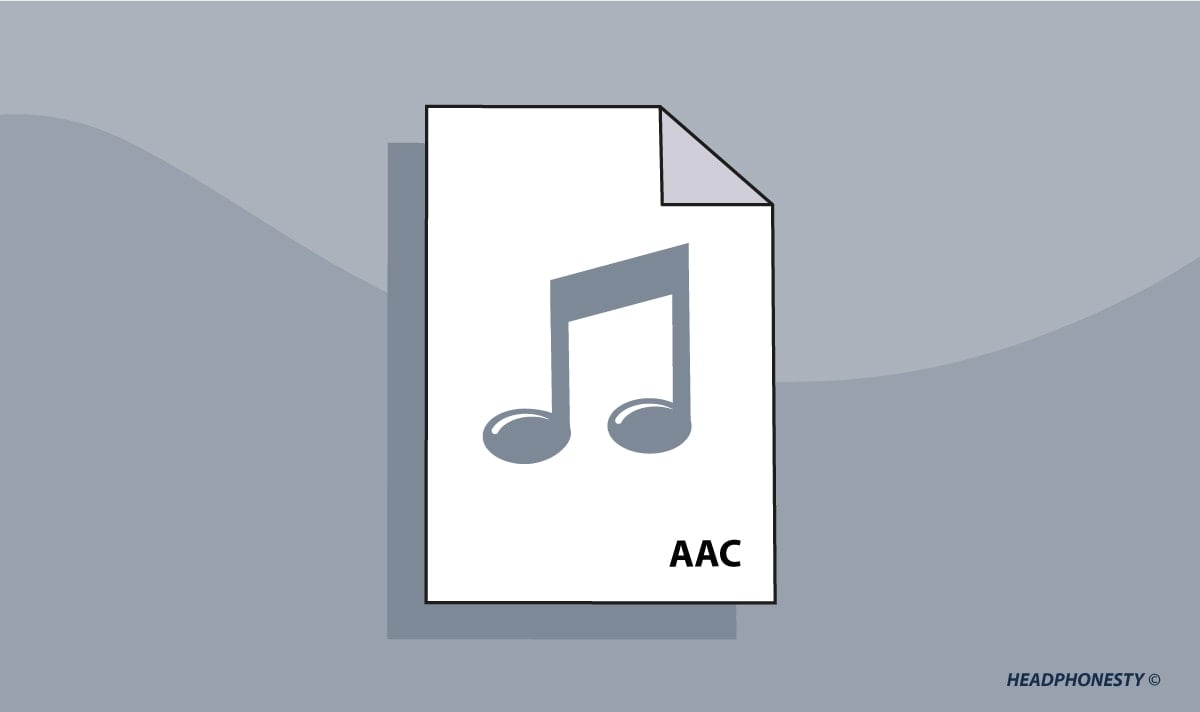 Types Of Compression: Lossy
File Extension: .m4a, .m4b, .m4p, .m4v, .m4r, .3gp, .mp4, .aac
AAC stands for Advanced Audio Coding. It first appeared in 1997, developed by Bell, Fraunhofer, Dolby, Sony, Nokia, LG Electronics, NEC, NTT Docomo, and Panasonic, to be the successor to MP3.
Like MP3, it also uses lossy compression. When encoding using the same bitrate, AAC can sounds better than MP3. The difference in quality is much more discernable at a lower bitrate (< 128 kbps).
AAC started to gain more mainstream popularity during the rise of iPods and the accompanying music library software, iTunes, supports AAC right out of the box. Apple Music stream music using 256kbps AAC bitrate.
Some example improvements over MP3 include:
Sample rates – AAC can use up to 96kHz, compared to MP3's limit of 48kHz.
Frequency Range – There are a wider range of sample frequencies (from 8 kHz – 96 kHz) than MP3 (16 kHz – 48 kHz). It has also better handling of the frequency range above 16kHz. This range is often referred to as the "air" band. A subjective term, but a special quality in music that contains detail and presence. Without it, music can sound sonically dull.
Efficient compression efficiency – AAC uses a purely MDCT algorithm, giving it higher compression efficiency than MP3
AAC is the format of choice used by Spotify, Android devices, iOS devices, iTunes, YouTube, and Tidal (lossy streaming). Like MP3, its maximum bitrate is 320kbps, and like MP3, streaming services often use a lower bitrate.
Due to the several improvements that AAC has over MP3, it leads to a more efficient audio compression. This increased efficiency is vital at a lower bitrate where superb stereo coding is needed. Hence, AAC shines in audio quality when compared to MP3 at a lower bitrate.
What We Like
Compact file sizes
Universal compatibility with hardware/software
Low bandwidth for internet/Bluetooth transfer
Improved lossy encoding
What We Don't Like
Not HD (though better than MP3)
WMA
Types Of Compression: Lossy
WMA stands for Windows Media Audio. It was Microsoft's response to MP3. Like AAC, it attempted to, and succeeded in improving on MP3, sounding better at the same bitrate.
However, its acceptance rate is not as widespread as MP3 and AAC. Therefore, it is not as compatible with hardware and software as those formats. For example, on Android devices, the format is not supported.
Though WMA files can sound better than MP3, because MP3 and AAC are already so popular, and supported on Mac and PC, users and suppliers default to using them.
What We Like
Compact file sizes
Improved lossy encoding leads to better sound quality than MP3 when using low bitrates
What We Don't Like
Not HD (though better than MP3)
Microsoft Windows compatible only
OGG
Types Of Compression: Lossy
OGG, or OGG Vorbis, to give it its full title, is another format designed to improve on MP3. Its specification is in the public domain, so it is free for commercial or non-commercial use.
It is a popular streaming format, as is WMA, but even though it is open-source, it hasn't had the same development and uptake as MP3 and AAC.
As OGG is not as popular as the other lossy formats discussed, you will be more limited with the types of devices and software that support it.
Spotify is famous for using OGG as its default audio file format. This used to be stated in their documentation but it has since been removed.
The desktop app's standard quality is Ogg Vorbis 160kbit/s. Premium subscribers can choose to switch on High-quality streaming, which uses 320kbit/s – Spotify
OGG is usually the smallest audio file format. But due to its lack of compatibility, users usually go for MP3 when picking a audio format that can still deliver enjoyable quality of music while keeping file size compacy.
What We Like
One of the smallest file sizes
Open-source public domain
Low bandwidth for internet/Bluetooth transfer
What We Don't Like
Not HD (though better than MP3)
Not as widely compatible as aac and MP3
What Is the Best Audio File Format?
So you might ask, "What is the best file format for my music?"
This is a bit of a misleading question. All the formats have their place in your music library.
Which you use depends on the media player you are using (software/hardware), whether portability is paramount (filesize), and whether you need HD resolution or not (bandwidth, sound quality).
Choose uncompressed audio format if..
If you are mastering and mixing raw audio, go for uncompressed audio format. Working with the uncompressed audio format like WAV and AIFF is akin to working on the "original" copy where you have all the information that you need.
Choose lossless compressed audio format if..
If you are an audiophile and want to store songs on the computer or digital audio player (DAP), you should go for lossless compressed audio format like FLAC. Although they still take up significant space, they are a much more superior choice for storing high-res audio in bulk than uncompressed format.
Choose lossy compressed audio format if..
However, if you are not too critical with your listening experience and you have limited storage space, lossy compressed audio files are the way to go. They take up less storage space on your computer hard disk and portable music player. They take up less bandwidth, so they transfer faster on the internet, and when using wireless technology.
Conclusion
As you can see, different audio formats have their strengths and weaknesses. All have their uses.
When listening to music is a major part of your life, you will always want music with you. Having the option to use different audio formats, allows you to incorporate music into every listening situation, especially when you are on the go.
Now you know the different formats, you can choose which one works best for the required situation, and what results to expect.
Pin this image to save the article